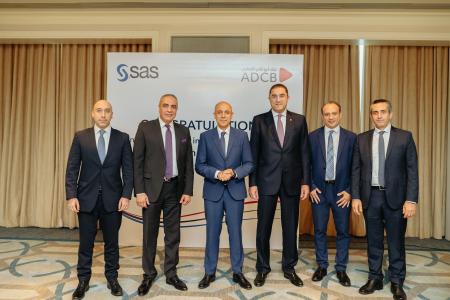 ADCB-Egypt, in collaboration with SAS, The Leader in Analytics, have announced their partnership for the implementation of Egypt's first AI-powered fraud detection solution aimed at enhancing the bank's real time fraud prevention capabilities. The project which was deployed in record-time exemplifies both entities' commitment to the country's security-first approach concerning its rapidly progressing digital transformation journey.
The successful rollout makes ADCB-Egypt the first bank across the country to adopt an innovative and AI-driven fraud detection capability powered by SAS' Fraud Management Solutions. The partnership will enable the Bank to monitor multiple channels such as Internet banking, mobile banking, Interactive Voice Response (IVR), and cards transactions. The introduction of an AI-driven solution with embedded analytics amplifies the bank's ability to review suspicious activities and detect malicious activities in real-time. In addition, the solution will ensure that the financial institution has access to a self-service on configuring new rules and simulations making them more agile to keep up with regulations issued by the Central Bank of Egypt (CBE) and changing market conditions.
Commenting on the partnership, Ihab ElSewerky – Managing Director & CEO at ADCB-Egypt said "In line with our digital transformation strategy and commitment to being at the forefront of innovation, our collaboration with SAS ensures that our key pillars are met, by creating a seamless and secure financial ecosystem for our customers. The AI-powered solution offers our stakeholders such an advanced technology for fraud detection and prevention across our various banking channels. Through our strategic partner SAS, we are able to deliver on our promise to continuously innovate and re-imagine the digital landscape of banking sector in the country."
"Capitalizing on our ongoing partnership with ADCB-Egypt, we effectively bolster their fraud prevention capabilities by leveraging our AI and Analytics solutions, helping the bank predict behavioral patterns, safeguarding customers, and efficiently managing risk. The scalable solution is aligned with the Bank's agenda to further expand within the region and importantly strengthen their customers' trust by protecting all touchpoints. ADCB-Egypt has constantly proven that they are a pioneer financial organisation that implements ground-breaking solutions that meet the increasing demand for e-banking. We, at SAS, are proud to be part of the bank's successful journey and to be able to ensure that it is secure one," said Samer Naguib, Country Manager, Egypt at SAS.
SAS has a track-record in providing customers and financial institutions across the region access to AI-generated prevention strategies in a matter of minutes, ensuring that their banking journey is more secure. Their solutions help sift through large volumes of transactions and multiple risks by adding numerous scenarios to reduce the overall false positives for enterprise and cross channel fraud prevention.