Commercial International Bank Egypt (CIB) has played an integral role in the early adoption of digital technologies over the past few years. In keeping with its leading position in the digital transformation of banking services in Egypt, customers have been benefitting from a unique digital banking experience that follows the latest international standards. Additionally, the Bank achieved remarkable results in H1 2021 compared to the same period last year, which is in line with the financial inclusion guidelines established by the Central Bank of Egypt (CBE) and the Egyptian government. In H1 2021, Mobile Banking transactions witnessed an exponential increase of more than 116%, with transaction value reached EGP 55 billion, which increased by more than 162% y-o-y.
In keeping with the Bank's strategy to encourage customers to use Online Banking services for different banking transactions, online banking users increased by 34%, while CIB Smart Wallet subscribers increased by 25% and the value of executed transactions surpassed 174%, reaching EGP 2.7 billion. Additionally, CIB's ATM network grew by 17% during the same period.
Due to the Bank's efforts to provide safe and convenient digital services to all customers, online business banking services also grew rapidly with a 124% increase in the number of corporate Internet Banking transactions, in addition to a 48% increase in the number of subscribers in H1 2021 y-o-y.
The Bank has also successfully expanded its customer base for governmental e-payments for corporations through its Corporate Payment Services (CPS). By H1 2021, the number of transactions increased by 137% y-o-y with a value exceeding EGP 10.7 billion, making CIB Egypt's leading bank in CPS.
CIB is not only committed to adopting the latest technologies but also investing in the field, especially since the beginning of the COVID-19 pandemic. The Bank managed to migrate its traditional banking services to digital platforms, in addition to upgrading the Bank's systems and internal operations by relying on robotics and operations centralization.
CIB has made great strides in the digital transformation plan set out in October 2021 to optimize customers' digital banking experience and assert the Bank's leadership in providing the best banking services using the latest technological solutions. The Bank migrated a number of services from the branches to digital platforms, which has helped in decreasing day-to-day transactions inside branches and reducing the Bank's carbon footprint. Digital migration plays an important role in achieving sustainable goals and makes a positive impact on the economic, social, and environmental fronts. Additionally, CIB ATMs now have a "go green" option giving customers the option to not print a receipt following their transaction, which decreases paper consumption.
"The Bank's strategy in the coming years is to aggressively expand its innovative digital solutions to support the relationship between the Bank and customer and attract more customers to the banking sector," said Mohammed Sultan, CIB's Chief Operating Officer. "These efforts demonstrate the Bank's commitment to promoting financial inclusion and integrating financial technology solutions into economic development," he added.
"The banking sector is committed to driving change and promoting financial inclusion. It places special focus on economic development that takes community responsibility into consideration, which contributes to advancing sustainable development," he said.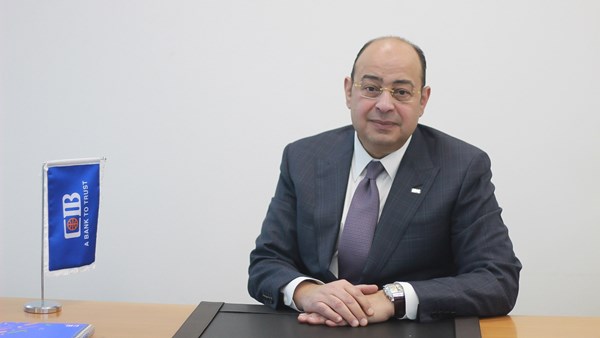 "It is the Bank's responsibility to help achieve financial inclusion by encouraging citizens to benefit from banking services and raising awareness of their importance as well as ensuring that secure and convenient digital products are provided," said Mohamed Farag, CIB's Deputy Chief Operating Officer. "CIB has indeed contributed to the radical change of day-to-day banking transactions and successfully reached a large number of people."
CIB recognizes the importance of financial technology (fintech) solutions and strengthens its relationships with the most promising companies such as CVentures, an early-stage, cross-border venture capital firm primarily focused on investing in companies creating meaningful change in the world of financial services.
CIB partnered with AUC Venture Lab to support startups and entrepreneurs working on fintech solutions. It also directed its efforts to meet the needs of fintech startups with fast and agile solutions through the CIB Innovation Lab, the fintech and entrepreneurial hub of Egypt's banking sector.
As part of CIB's corporate social responsibility efforts, the Bank rolled out talking ATMs designed for visually impaired customers. They allow customers to perform their banking transactions independently and make their own financial decisions. The ATMs are strategically positioned in several locations to reach the highest number of visually impaired customers.